Marian Aldenhövel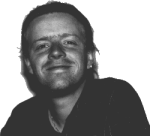 ---
English Summary
Who I Am (Wer bin ich)
Marian Hermann Aldenhövel
* 21.03.1969 und still not dead.

After a "standard career" from soldering iron, via Sinclair and Amstrad homecomputers, barely getting past the C64, I ended up using and programming "compatible" PCs. My main fascination with computers is their ability to make the very same machine do many completely different things.

Today I am a full-time freelance software developer. Since my CPC-Days, a have a particular inclination towards Pascal. What was back then Turbo Pascal has now developed into Borland Delphi and remains my programming tool of choice. I have picked up a few semesters of mathematics and computer science while making a gradual transition from hobbyist to professional. (no formal degree)

I currently live in Bonn with my beautiful wife Karin and my lovely daughters Maria and Layana.
Where I Am (Wo bin ich)
Marian Aldenhövel
Hainstraße 8
53121 Bonn
Germany

Tel.: +49 228 6203366 (10:00-22:00 MESZ)
Fax: +49 228 624031
ICBM: 7° 7' 12" E - 50° 45' 12" N

http://www.aldenhoevel.de/Marian
What I Do (Was tue ich)
My main platform is Microsoft Windows, my main tool Borland Delphi. I am also fluent in Visual Basic and C++, but bear a personal dislike against them, especially the former.

I build all kinds of applications, just as long they are not too close to the system. I have never developed a windows device driver and have never written a line of x86-assembler, for instance.

The project of my dreams at this time would be an end-user-application running on some free incarnation of Unix. Proving that it can be done, making it fit for "just users", and breathing the atmosphere of "no secrets". For that I would even set aside my beloved Delphi and settle my conflict with C++.

For more information on conditions and availability contact me under the address above or via E-Mail.

Recent projects:

MingMen - Software for traditional chinese medicine

MingMen is a tool to aid in traditional chinese diagnosis and therapy using acupuncture and herbs. In its current version it is a Delphi 4 application using one MS-Access-Database each for its knowledge base plus patient data and for graphic material.

One of MingMens highlights is its ability to display the chinese names of points, herbs and recipes on any western Win9x-System using Fonts that optionally come with MS Internet Explorer (MS Song and MS Hei) and a Java-Style notation of unicode values. See TChineseLabel, TDBChineseLabel on the download page.

For more information about MingMen see www.mingmen.com.

Miscellaneous components and applications

See the download page for some of the things I have put together to get a feel for the way I work, you can find complete applications and sourcecode for evaluation.
---
E-Mail: marian@marian-aldenhoevel.de